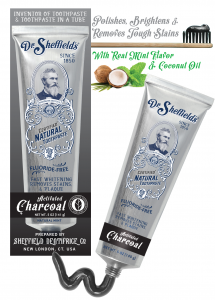 Dr. Sheffield's Naturals Introduces Activated Charcoal Toothpaste – A Powerful, New Fluoride-free Teeth Whitener
March 21, 2018
Technology That Brings to Life a 168-Year-Old Legend? There's an App for That
Founder of Dr. Sheffield's Naturals Toothpaste Wakes Up in the 21st Century Via Augmented Reality –
NEW LONDON, Conn., May 3, 2018 /PRNewswire/ — When it comes to legacy brands today, we know that consumers, particularly millennials, embrace products that are authentic, craftlike and true to who they are. So when Sheffield Pharmaceuticals decided to release its first direct-to-consumer brand in over 100 years–Dr. Sheffield's Naturals Toothpaste — they brought company founder and the inventor of modern-day toothpaste, Dr. Washington Sheffield, back to tell it himself. The twist? The iconic 168-year-old company chose to channel him through the very modern-day medium of Augmented Reality.
This month, the Dr. Sheffield's Naturals brand will launch an engaging new app that blends authenticity with forward-thinking innovation. The downloadable Sheffield AR app — available on the App Store and Google Play – is the first of its kind in the personal-care category. Dr. Sheffield's classically bearded, aristocratic mug activates when lined up with the outer packaging on-shelf at participating retail stores nationwide. When activated, Dr. Sheffield playfully lectures today's "little whippersnappers" about the benefits of returning to life's simpler pleasures–and that includes natural, flouride-free oral care.
"We are very proud of our company's history and heritage, and we are also looking forward, innovating, and staying on the cutting edge, just as Dr. Sheffield did in his dental practice 168 years ago," said Jeffrey Davis, President & Chief Executive Officer at Sheffield Pharmaceuticals. "There really is no better technology for us to blend old and new, than through Augmented Reality," he added.
The full line of great tasting Dr. Sheffield's Certified Natural Toothpastes is available at CVS, CVS.com, select Bed Bath & Beyond, BedBathandBeyond.com and HarmonDiscount.com. All varieties are certified according to the strict standards of the Natural Products Association and contain no fluoride, GMOs, synthetic detergents or foaming agents, and no artificial colors, flavors or sweeteners. Dr. Sheffield's Naturals is also certified cruelty-free by Leaping Bunny, signifying no animal testing at any stage of product development.
About Dr. Sheffield's Certified Natural Toothpaste
Dr. Sheffield's Naturals is a new line of toothpaste made from an age-old recipe reminiscent of simpler times. In the mid-1870s, Dr. Washington W. Sheffield, a respected dentist from New London, Connecticut, invented a 'creme dentrifice' for his patients, replacing the unsavory powders of the time. He put it in a tube, and the rest is history. Over 160 years later, Sheffield is back and harsh synthetics are out. Sheffield's timeless formulas are still free of fluoride, synthetic detergents and foaming agents, GMOs and artificial colors, flavors, sweeteners – and actually taste good!
For more information, visit www.drsheffieldsnaturals.com or follow us on Facebook, Instagram and Twitter.