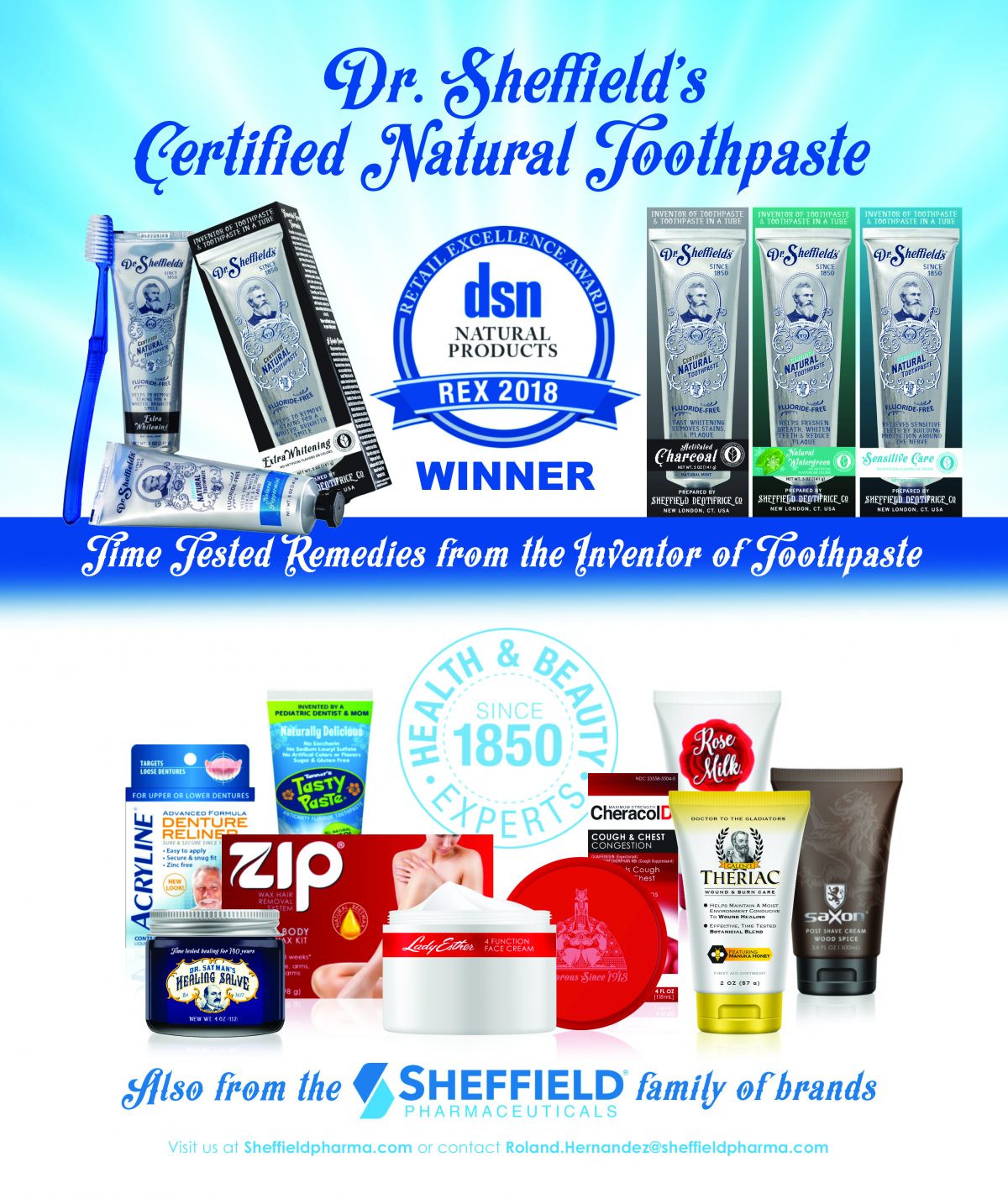 2018 DSN Retail Excellence Awards Recipient — Natural Products
February 1, 2018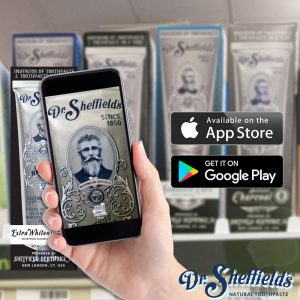 Technology That Brings to Life a 168-Year-Old Legend? There's an App for That
May 3, 2018
Dr. Sheffield's Naturals Introduces Activated Charcoal Toothpaste
Unique formula made from coconut husks naturally polishes and removes tough stains
NEW LONDON, Conn., March 19, 2018 /PRNewswire/ -- Dr. Sheffield's Certified Natural Toothpaste adds Activated Charcoal to its time-tested, fluoride-free lineup, joining Extra Whitening, Natural Wintergreen, Natural Peppermint and Sensitive Care varieties. Made with natural ingredients, Activated Charcoal has been shown to safely and effectively whiten teeth, remove stains, reduce plaque, and freshen breath - making it a sought-after at-home natural solution to teeth whitening.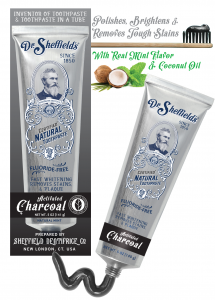 Charcoal is a key ingredient in oral care because - once activated and added to toothpaste - it has the ability to absorb impurities and remove stains when brushing. Dr. Sheffield's Activated Charcoal does just that, safely removing plaque, food particles, and stains from culprits like coffee, tea, and wine. Activated Charcoal is tasteless, odorless and balances pH levels to help eliminate the bacteria that causes bad breath. Dr. Sheffield's variety is creamy, black and uniquely formulated with Activated Charcoal made from eco-friendly sustainable coconut husks. It contains real peppermint flavor and coconut oil for a fresh, creamy, natural taste. It's also made with natural pectin from orange peels and aloe vera, which provides moisture protection to soothe the mouth. It safely and gently polishes teeth and does not contain any harsh, synthetic bleaching agents which can cause tooth sensitivity.*
"Dr. Sheffield would never have envisioned a future where toothpaste would be filled with synthetic substances. We're on a mission to clean up toothpaste and bring our effective natural formulas to families across the country," said Jeffrey Davis, President & Chief Executive Officer at Sheffield Pharmaceuticals (parent company of Dr. Sheffield's Naturals).
The full line of great tasting Dr. Sheffield's Certified Natural Toothpastes is available at CVS, CVS.com, Bed Bath & Beyond, BedBathandBeyond.com and HarmonDiscount.com. All varieties are certified according to the strict standards of the Natural Products Association and contain no fluoride, GMOs, synthetic detergents or foaming agents, and no artificial colors, flavors or sweeteners. Dr. Sheffield's Naturals is also certified cruelty-free by Leaping Bunny, signifying no animal testing at any stage of product development.
About Dr. Sheffield's Certified Natural Toothpaste
Dr. Sheffield's Naturals is a new line of toothpaste made from an age-old recipe reminiscent of simpler times. In the mid-1870s, Dr. Washington W. Sheffield, a respected dentist from New London, Connecticut, invented a 'creme dentrifice' for his patients, replacing the unsavory powders of the time. He put it in a tube, and the rest is history. Over 160 years later, Sheffield is back and harsh synthetics are out. Sheffield's timeless formulas are still free of fluoride, synthetic detergents and foaming agents, GMOs and artificial colors, flavors, sweeteners - and actually taste good!
Dr. Sheffield's Naturals can be found at CVS and Bed, Bath & Beyond. For more information, visit www.drsheffieldsnaturals.com or follow us on Facebook, Instagram and Twitter.
About Sheffield Pharmaceuticals
Sheffield Pharmaceuticals is a manufacturer of Health, Beauty and over-the-counter (OTC) drug products. Sheffield manufactures all their products in New London Ct, and is a supplier to many national brands and most mass merchandise and drug chains in the United States. Sheffield was established 1850 on the same site as their current manufacturing facility. Sheffield was the first company to put toothpaste in a tube in the early 1870s, and has recently launched Dr. Sheffield's Certified Natural Toothpaste, which is available in CVS and Bed Bath and Beyond nationally.
For Sheffield's contract manufacturing customers and joint ventures, Sheffield's value-add can include more than manufacturing. Sheffield can provide a suite of services, including sales and marketing plans, formula refinement in our R&D facilities, product development from concept to execution, fulfillment and logistics, chemicals procurement, and regulatory expertise. The company is dedicated to providing the highest quality service and products to our customers in strict accordance with all FDA (cGMP) regulations and procedures. Sheffield employs 175 in New London, CT.